I've been like the proverbial cat on that old hot tin roof for the past few days. Keeping secrets is not something that comes easy - well, unless it's a secret bit of stash that needs hiding away before use! But now the secret is out, the sticking plaster over my mouth has been lifted and I can say.......

I made it onto the design team of the new monthly challenge: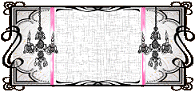 How fab....using Glitter, Spritz, Gems, Bling and all that super shiny, sparkly stuff will be legitimate!
Click on the blinkie and you'll be taken to the challenge blog where you can see who else made the team. Congrats to my new teamies and thanks to Shell and Pattie for asking me to join them.
Hope you'll all join us for our first challenge....it's shaping up to be a real corker!
Hugs,
Sharon xx